The Road to 1,000
Jul 29
Musical Monday
Now that the show I am currently performing in has opened, and I have survived through tech week, a much needed break after, and week 2 of our run, I can finally get back to my normal weekly postings. We start by continuing the trail of Best Musical winners from the first Tony winner to the current. We pick it up in the 1954/1955 Broadway season. Happy Musical Monday!
Jul 26
"Title of Show" show #431
Four performers, a pianist, and a unit set. That's all one really needs to stage [title of show].However, if the four performers you have cast have an aptitude to understand how to perform and bring out the [title of show] material in a challenging and personally effective way, it will be even better. If your pianist is a master of the instrument, as well as has some wonderful comedic timing, it will be even better. And if your unit set and few props and chairs are well -designed for the space you are performing in, then it will be even better. Director Joel Abels nailed all three of these aspects in the recently closed, yet very memorable, production of [title of show].
Jul 23
"Hairspray" show #430
Good morning Baltimore! Reedley River City Theatre is currently running an energetic production of Hairspray. While the space may limit the expected Hairspray pizazz and oomph, this production allows for the story to be told in an up close and personal form that audiences won't experience in most other venues.
Jul 17
"Who's Afraid of Virginia Woolf?" show #429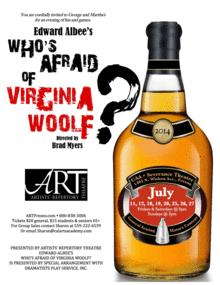 Last Friday Artists' Repertory Theatre opened up their production of Who's Afraid of Virginia Woolf? which stars four of the finest performers in the area. Those who are not aware of the impact this show may have on you (whether you play "games" with your spouse when company is over or not) are in for one heck of an evening at George and Martha's home.
Jul 16
"Once" show #428
I only saw the show on Broadway because it had won the Tony Award for Best Musical recently, and the original cast was still playing. Little did I know or expect just how exquisitely crafted a show like Once is. I felt the feelings. I enjoyed the music. I loved every bit of the ride that Edna Walsh's book, and Glen Hansard/Marketa Irglova's music and lyrics took me on. Therefore, when SHNSF announced they would staging the currently touring production of Once I lept at the chance to see it again. So that's what I did a few Sunday matinees ago, and enjoy it again I did!
Jul 15
"In The Heights" show #427
The lights have dimmed on Broadway By The Bay's Washington Heights. In The Heights marked the second show of the Peninsula-based theatre company's 2014 season. I had the pleasure of catching Usnavi and the gang just before they closed two Sundays ago. As an audience member who saw this title twice during its national tour run, I was entering the Fox Theater with interest and anticipation as to how Broadway By The Bay would approach and stage such an intimately intense show on both sides of the emotional spectrum. They presented this show with talent, honesty, and a simplistic way of just telling the story. This production was, indeed, a fantastic showing.
Jul 11
"Pump Boys and Dinettes" show #426
Sierra Repertory Theatre has a knack for turning what could be an "easy to please" musical script and book, into a thrillingly good time at the theatre for its audience. Such is the case with their currently running country-type review, Pump Boys and Dinettes. The coffee is hot, the mechanics are distracted, and the pie is ready to be gobbled. This staging of Pump Boys and Dinettes (my first time ever seeing the show) is a silly good time, with comfortably forced moments of depth.
"Forbidden Broadway: Comes Out Swining!" show #425
My 2014 New York trip was wrapped up in the best way possible; seeing a professional (off-Broadway) show that makes fun of and spoofs the previous nine shows I just saw! Such was the case with the newest edition of Forbidden Broadway. When you take four talented performers and let them run rampant on all modern and classic things Broadway, you're in for laughs, tears (from laughter), and holding your stomach (from laughing so much).
Jul 07
Musical Monday
So I thought I had posted my Musical Monday last week only to find that it was still saved! Therefore, this week's Musical Monday is now a couple days instead of a few days early for the big American holiday we just celebrated. Happy Musical Monday!
Jul 04
"A Gentleman's Guide to Love and Murder" show #424
It won the Tony Award for Best Musical. After seeing this Broadway trip concluding show, there is no doubt in my mind why it won the coveted title. It's smart. It's witty. It's engaging. It will probably run for quite some time; but boy am I happy I saw A Gentlema's Guide… for my final Broadway show this past trip!