The Road to 1,000
Mar 10
Musical Monday
This week's musical bring us to the "S"'sssssss. This musical was another one of the very short-lived musicals that graced Broadway's 2012/2013 season. So, although it did not receive more than couple of nominations, today it receives some highlighting. Happy Musical Monday!
Mar 06
Rogue Review "Flying Dreams: A Vaudevillian Tragicomedy" show #399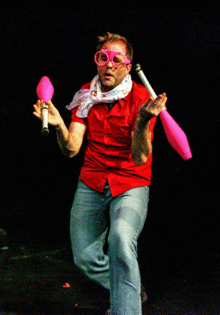 Now, I know that one of the beautiful things with regards to the Rogue Festival is that it is a non-juried performance festival. I know. I get it. In fact, I greatly respect that a performing arts festival can last 13 years (and still going strong might I add) without it being juried. Last night, I saw Flying Dreams: A Vaudevillian Tragicomedy at Mia Cuppa. This, in total Rogue shows I've ever seen ever, is the 17th Rogue show I have seen. It is without a doubt, my top favorite. If there is a show that is not to be missed, it is this one.
Rogue Review "C-" show #398
Eric Jaffe. He's a talent. Plain and simple. The man is performing the one-man show entitled C-, which consists of interviews from his past fraternity brothers in college. Jaffe has outlined a string of notable stories in which he takes on the embodiment of the specific brother he is representing. But it's more than just a costume change. It's the physical mannerism, the dialect, the eye contact. Heck, his performance is so effective that at the end of the play when we, the audience, get to meet Jaffe and hear some of his story, it takes a bit of time to know if he's himself or another character. C- is an outstanding show that reminds Rogue audiences what solo theatre is all about.
Mar 05
Season Announcement Wednesday
Alright, so the last few weeks have not had a lot of season announcements, mainly because there are drought periods. However, over the last two weeks several companies I closely follow have announced seasons. Last week I highlighted the Fresno Rogue Festival (which continues through this weekend), so now I am back to highlighting companies all around that are kicking off season tickets, announcements, and casting. This week I highlight the 2014/2015 season of 42nd Street Moon!
Rogue Review "State Your Name for the Record" show #397
My second Rogue show took me to Neighborhood Thrift for Amy Ryan's one-woman show, State Your Name for the Record. Now, one may think that a play about court reporting may be too dry for theatre, or irrelevant to the general arts population. However, Ryan's script and performance of said script is not what you expect. Ryan takes the subject of court reporting (or in this case, learning how to become one via classroom open house) and makes it darn well relevant to you.
Rogue Review "NOCO"
Although this particular show does not count towards my personal Road to 1,000 (this will be true for several of the Rogue Festival shows I see this week) I still wanted to give a shout out to NOCO, my first Rogue show of 2014. This year was my first time ever seeing the NOCO Dance group and now I know why people are attracted to this dance form and, specifically, NOCO's staging of it.
Mar 03
Musical Monday
The only "R" musical last year (that I have yet to feature) was a concert tribute of sorts; but hey, it deserves to be highlighted! When bands receive tribute shows on Broadway, obviously they have had enough of an impact and mark on music history to garner such a spectacle of an opportunity. This week's highlight is no exception. So sit back, hold tight, and enjoy this week's Musical Monday!
"The 39 Steps" show #396
The brilliance of The 39 Steps (adapted for the stage by Patrick Barlow) is two-fold. The strength of the script is so solid that all you need to do is have the right people perform the material for it to be successful. Secondly, the versatility of the script allows for the Hitchcock-lovers and those who can't recall a single Hitchcock title to enjoy this piece on its own accord, references or not. Good Company Players' recently opened staging of this multi-award winning title has the right people playing the parts, and director Denise Graziani holds no laughs back in her nuanced staging; therefore, allowing the versatility to provide all the laughs and melodramatic gasps this play garners.
Feb 27
Season Announcement Wednesday…errr….Thursday
This week's Season Announcement Wednesday (intentionally delayed) is an abbreviated one in honor of highlighting the 2014 Rogue Festival which starts this weekend!!
Feb 25
Musical Monday….errr….Tuesday (Play Edition)
This week's highlight is giving favor to a "P" show that had less than a week on Broadway during the 2012/2013 season. Even with big names from television, movies, and theatre, the stars just couldn't save what I can only imagine was a less than enjoyable theatre experience. So here is a delayed play edition of Musical Monday!